Are you struggling to understand an adopted or foster child's actions?
Do you feel stressed, isolated and a rubbish parent who has lost control?

Do you despair when well meaning people say "all children do that"?

Do you fear for their (and your) future?

Have you tried other parenting courses? Stickers? Negotiation? Threats? Bribes? All to no avail?

Are you a professional working with families who parent hurt and/or maltreated children?
The Challenge
The problem is that adopted and foster children have a traumatic start to life which affects their ability to bond and trust. They take a double hit. Firstly their developmental needs were not met and secondly they repeatedly had overwhelming and distressing experiences which lodged in their psyche.
They need therapeutic re-parenting to undo the damage and fill in the gaps. This presents a unique leadership and parenting challenge for you, especially if no one around you understands.
The Solution
The Trauma Triggered Behaviour Online Course offers you hope. Grounded in reality, based on sound research, proven behavioural science and leadership skills: this course offers understanding, a robust framework and fresh techniques to manage kids and yourself. Created and delivered by Helen Oakwater, an experienced adopter, coach and author who for decades lived with children who hurt. The live workshop has received high praise throughout the UK, Australia and New Zealand from parents and professionals.
Course Contents
12 modules and 38 lessons

Videos from a full one day workshop filmed in front of a live audience

Over 3.7 hours of professionally filmed and edited video

Over 4 hours of edited audio recording of a different 'advanced' workshop

Exercises for you to complete and share with others including your children

Clear, comprehensive and extensive material from wide ranging sources

Several videos you can send to others to help them understand
After watching the videos and engaging in the exercises you will have a very different view of your role. You will feel more in control, more able to tolerate challenging behaviour. You will recognise what you need to change and will have resources to share with family members, professionals and friends whose support and help you require.
This is not a one size fits all approach. It's a coherent framework for thinking, ensuring you design a unique route map for your family, based on robust principles.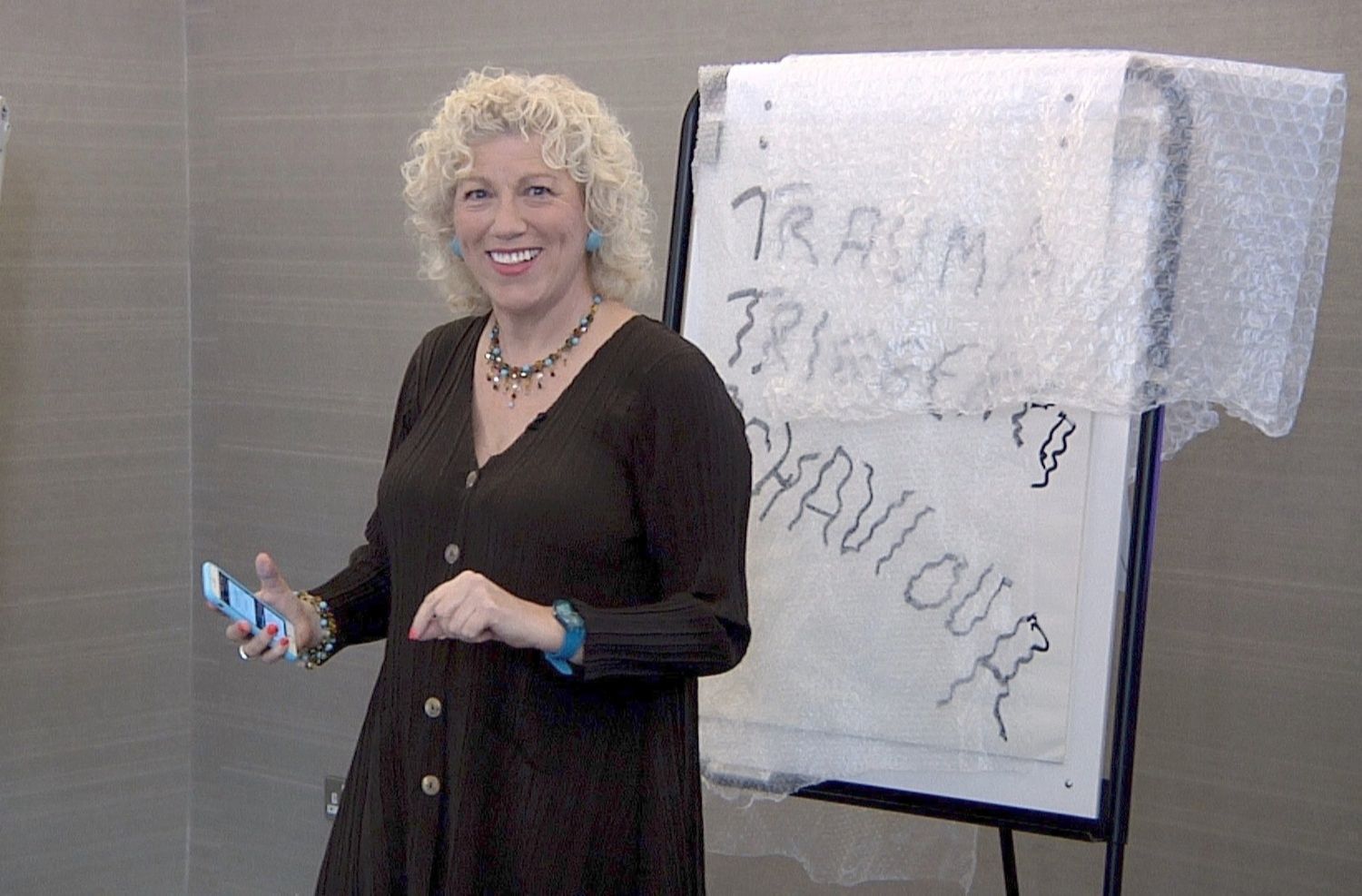 What do I get for my investment?
I'm from an organisation, can I use this material?
Do you have a refund policy?
Who is Helen Oakwater and why can you trust her?
Chelsea Wilkins - Placement, Team Fostering
'I had a wonderful opportunity to complete my final year university placement at Team Fostering. I was given the opportunity to attend the conference with Helen Oakwater on Trauma Triggered Behavior which was one of the most moving experiences I've had on placement and through all my professional practice. I, being a care leaver myself felt it was not only beneficial for my professional development but this enabled me to understand someof the behaviours I presented as a child / young person. I felt that Helen's workshop was absolutely fantastic in enabling a thorough understanding and gained knowledgeable information and strategies in being able to reflect on my professional development and work with young people in overcoming these very barriers that could have been prevented. Helen was very professional in her delivery and ensured everyone understood what was being said. If anybody has the opportunity to attend one of Helen Oakwater's events, then please do as you wont be disappointed, she will give you methods and strategies in supporting children and young people with Trauma Triggered Behavior'.